In September the Round Midnight Orchestra will be touring through South-Africa. The band will play at the mainstage from the Standard Bank Joy Of Jazz Festival for an audience consisting of over 3500 people while being part of a festival line-up with big names like Joey DeFrancesco, Cassandra Wilson and David Sanborn. Next to that the Round Midnight Orchestra will play at venues like The Orbit – Home of Jazz, Soweto Theatre and Ginz On Dynasty.
This performance is a collaboration between the Joy of Jazz Festival, Amersfoort Jazz and Stichting JazzNL and was also made possible by Buma Cultuur, Sena Performers and Fonds Podiumkunsten. Ikaros van Duppen (BumaCultuur) was at Joy Of Jazz before and was stunned by the festival. It is a great chance for Dutch Jazz Artists to internationally promote themselves.
The band will not only consist of settled names like Izaline Calister, Ben van den Dungen, Rolf Delfos, Peter Beets, Marius Beets and Alexander Beets. Young talents like Tom Ridderbeekx and Wouter Kuhne are also part of The Round Midnight Orchestra.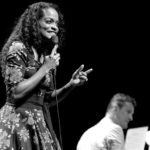 (Picture by Marie-jose Eldering)

31/07/2018 by Sonny