The new CD of the Ben van den Dungen Quartet is out now!
The new album is called 'A Night At the Club'. The CD is live recorded during a week of playing in the famous Spanisch jazzclub Cafe Central in Madrid.
You can orde the CD by Jwajazz Agency or you can download it by CD Baby.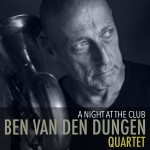 20/10/2014 by Sonny